I must admit that when first arriving upon their website I felt a bit overwhelmed. The first thing I noticed was the abundant amount of resources offered for PreK through high school-aged students.
As a homeschool mother my time is very limited, and if you're anything like me, you want to be able to quickly find the information you need.
I was very pleased to learn that the manner in which
SchoolhouseTeachers.com
designed their website not only made it VERY EASY to navigate through, but also helped me find what I needed fast.
I LOVED THAT!
Because I have a middle school-aged and an elementary-aged child, I began by concentrating on the links geared toward these grade levels to see what subjects would be most useful to them.
There were A LOT:
history, writing, lapbooking, geography, science, French, Spanish, guitar, math, reading lessons just to name a few for the PreK/Elementary aged children, in addition to College Choice Guidance, Career Exploration, Economics, Filmmaking, Mock Trial, Media Socialization, Worldviews, Logic, and Chemistry for the Middle School/High School grades.
For this review, I decided to have my middle school-aged son concentrate on the Filmmaking and Media Socialization classes.
Due to my son's current interest in stop motion film, I felt the Filmmaking class would be the perfect course to help him develop this interest even further.
I love that this particular class incorporates audio with its visual presentations.
My son is both an auditory and visual learner so this works great for him!
When arriving on the Filmmaking page my son and I read over the class summary followed by the descriptions about what each week of this 26-week class would cover. I appreciate the week-by-week breakdown so that I know what my son is learning each week (or each day, as we chose to do the lessons on a daily basis since the classes started in June and my son wants to catch up).
So far my son is enjoying the class. An assignment is given at the end of each week's presentation. I love that this class is being offered in order to encourage future Christian filmmakers.
I appreciate that
SchoolTeachers.com
offers what I call "out-of-the-ordinary" classes such as their Media Socialization and Mock Trial classes. I felt that the Media Socialization class would complement the Filmmaking class, which is why I chose it for my son.
Similar to the Filmmaking class, the Media Socialization class offers a week-by-week description of each class' topic. This class is set up differently in that instead of an audio/visual presentation, the student has to read each week's lesson.
This is why I chose this class:
"This course is designed to help you become media literate—to help you understand, interpret, analyze, and respond appropriately to the millions of media messages you are likely confronted with over the course of the year. My hope is that you will learn to become not simply a consumer of culture, but a producer of it."
The fact that
SchoolhouseTeachers.com
offers this type of class really impressed me. I consider this a unique class in that I have never seen this subject taught or spoken of elsewhere, and in this day and age in which our children are being bombarded by ads on a daily basis, I believe it is an important subject to teach our children.
SchoolhouseTeachers.com
offers an incredible amount of value for your homeschool family.
Not only does it cater to the education of your children, but it also offers some great items for the parents such as Monthly Menus (found under the Dailies link), downloadable Schoolhouse Planners (found under the Extras link, which if purchased separately would run between $9.95 and $39.00), recommendations for teaching children with special needs (found under the Family link), monthly E-Books, back issues of The Old Schoolhouse Magazine, and so much more.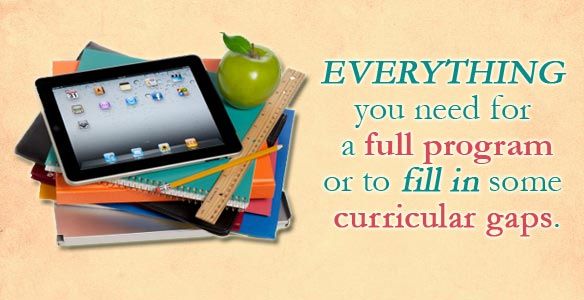 When I learned what the cost of a
SchoolhouseTeachers.com
membership was I couldn't believe it! Your first month's membership is only $1.00! And get this, each month after that you pay only $5.95 per month! After showing a friend around the website, she asked me how much it cost for a membership. After I told her the amount she asked, "How much will it go up after the $5.95 rate?" (She thought that had to be the introductory price.) I had to keep reassuring her that the $5.95 was the fixed rate. She had a difficult time believing it due to how many classes and other great resources are available on their website.
SchoolhouseTeachers.com
is currently running a special price of only $49 for a one-year membership
(regular price is $64.26)
. You will also receive the 2013 Annual Print Book and your choice of their Winter Cranberry or Chocolate Mint tote bag for free. In addition, you'll receive various bonus gifts. (Visit
SchoolhouseTeachers.com
to learn more about this offer.)
Here's an added bonus which
SchoolhouseTeachers.com
offers each of its members. Once you subscribe to their website you are automatically enrolled in their affiliate program. They will provide you with an affiliate link which you use to refer others to their website. In return, when they purchase a membership, you will receive a one-time commission of 50% of their subscription. (
Note: The links to SchoolTeachers.com throughout my review are my affiliate links.
)
I could write so much more, for example how my first grader will be traveling through the United States learning about various states through Everyday Explorers (found under the Dailies link) and using the Classical History lessons to supplement his current Ancient History studies, but then this post would never end. :-)
Check out
SchoolTeachers.com
for yourself and get ready to delve into an "education candy store."

Disclaimer: I received a free copy of this product through the Schoolhouse Review Crew in exchange for my honest review. I was not required to write a positive review nor was I compensated in any other way. All opinions I have expressed are my own or those of my family. I am disclosing this in accordance with the FTC Regulations.