According to authors Mike Ashcraft and Rachel Olsen, authors of the book

My One Word

, you are to, "Choose just one word that represents what you most hope God will do in you, and focus on it for an entire year."

My one word for 2013 is "

serve

."

One of the things that has been tugging at my heart for several years now is this desire to serve others in a much greater capacity. Now that my youngest son is older I feel that this is something we are easily able to do as a family.

Today, as one of my sons was listening to

Adventures in Odyssey

, I caught the main character saying that sometimes people who get depressed feel this way because they are spending too much time thinking about themselves and that one solution for this would be to focus on others instead. Lately, I have found myself focusing too much on thoughts that make me sad, and I agree that putting that energy into helping others always helps me to feel at peace.

So for 2013 I choose the word "

serve

" because my hope is that God will increase this desire within me to serve not only my family but others as well, and that He will lead me to those places that most need me, and in so doing, that I may share Christ with everyone.

What word would you choose? Leave your comments below.

See what others have claimed as their word for 2013 by clicking on the image below starting at midnight on Friday 1/4/13. This is a blog hop hosted by

Ben and Me

.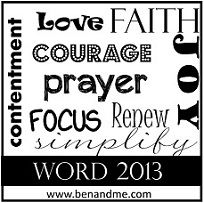 ©2011-2013 A Slice of Homeschool Pie. All rights reserved. All text, photographs, artwork, and other content may not be reproduced or transmitted in any form without the written consent of the author.
http://www.asliceofhomeschoolpie.com