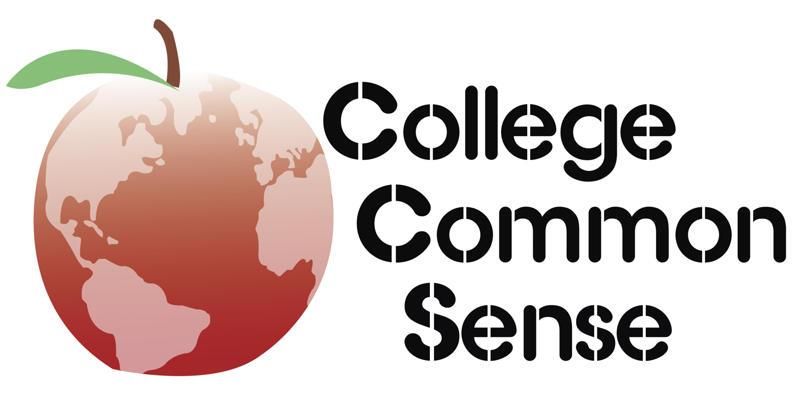 My eldest son is currently in sixth grade and when I look back at our homeschool journey thus far, I realize how quickly his first six years of schooling has gone by. I believe that the next six years will most certainly pass just as quickly which has started me thinking about the subject of college. This is what led to my interest in
College Common Sense
and their
Going to College and Paying for it Online Video and Workbook
.
I did some research to find out what the current average cost for college is. Here's what I found. According to the College Board, a moderate college budget for an in-state public college averaged $22,261. A moderate budget for a private college averaged $43,289. (These numbers do not include fees, housing and meals, books and school supplies, and personal and transportation expenses.) That's A LOT of money. As parents, my husband and I want to encourage our children to obtain as much free money (through scholarships, grants, etc.) as they can, and
College Common Sense's
Going to College and Paying for it Online Video and Workbook
guides the student (and parents) through this financial process.
Mrs. Ames, the founder, has over 10 years experience working in the Financial Aid industry. Through her program, she offers an invaluable amount of information as she walks both the student and the parents through this process in an easy-to-understand manner.
Her videos, which run about 20 minutes each, include the following six titles:
The Big Picture
Mrs. Ames explains Financial Aid including two of its important concepts, the three major steps to going to college, and what types of costs are involved.
The workbook covers Campus Visit Tips including what to do before the visit, during the visit, and after the visit, questions to ask before applying to a college or university, how
not
to choose a college, and what types of things to look for when evaluating colleges.
One of the statements she shared in this video is that "loans should be a last resort." I appreciated this because this is a concept we have been teaching our eldest son.
How Financial Aid Works
In this segment, Mrs. Ames discusses FAFSA (the free application for federal student aid).
Mrs. Ames did an excellent job of helping me understand FAFSA and the important role it plays in the financial process.
The workbook includes a College Work Sheet which the student fills out to determine the Cost of Attending their particular college.
All About the Free Money
In this video Mrs. Ames helps you learn about the three different types of scholarships and how to go about finding scholarships that are right for the student.
The System That Works
Mrs. Ames lays out a system your student will use to keep track of scholarships using a Scholarship Binder. This will include scholarships the student is interested in, a copy of scholarships submitted, and scholarships won. Mrs. Ames also includes an example on how to write an essay.
You in the Process
This video is specifically geared toward the student. Mrs. Ames summarizes everything covered in the previous videos. She offers advice pertaining to college and encourages the student to develop character, make a plan for his future, get involved in community service, and move towards a goal. She also includes a list of questions that the student can answer for their All About Me spiral notebook.
Put It All Together
In this final video, Mrs. Ames speaks directly to the student offering him both encouragement and wisdom.
This program can be used with Elementary, Middle, and High School students, but in my opinion, I believe it will be more beneficial to the Middle and High School students. It is offered as a yearly online subscription program with 6 videos and 6 downloadable pdf files for $25. (The pdf files include the same information covered in the videos.) You can also purchase the DVD and printed workbook for $50 + S&H. (For this review I used the online subscription.)
How We Used This Program and My Thoughts
I had my 11-year-old son watch some of the videos and then we discussed them. I didn't have him watch all of the videos as I knew some of the information would be overwhelming to him at this stage. What I was really hoping to accomplish for him through this program was to get him thinking about a possible career. Thanks to some of the links Mrs. Ames provided through
Going to College and Paying for it Online Video and Workbook
, this goal was reached. Prior to this program, when asked what he wanted to be when he grew up, my son's response usually consisted of, "I don't know." After finishing this program, his response now is, "I think I want to be a lawyer."
I watched all of the videos, took notes, and bookmarked many websites. There is a lot of information presented through these videos which means that you will want to watch them more than once. I do want to add however, that the videos go back and forth between watching Mrs. Ames speak and looking at slides. This did not bother me, although it did seem to bore my son. (This may just be due to his age.) After having used this program, I feel more confident about walking alongside my son through the whole college financial process.
When my son enters the high school level I plan on either resubscribing to the online program, or purchasing the DVDs and workbook so that my son can watch the videos and work through the lessons. This program encourages the student to take ownership of this process.
In the meantime, I will continue to take advantage of the free information Mrs. Ames provides on her
College Common Sense
website and read through her free Monthly Newsletters and Weekly Lesson Plans. I highly recommend signing up for these emails as she shares information concerning the college financial process through both of these subscriptions.
To read what others on the
Schoolhouse Review Crew
wrote about this program, click on the banner below.

Disclaimer: I received a free copy of this product through the Schoolhouse Review Crew in exchange for my honest review. I was not required to write a positive review nor was I compensated in any other way. All opinions I have expressed are my own or those of my family. I am disclosing this in accordance with the FTC Regulations.
©2011-2013 A Slice of Homeschool Pie. All rights reserved. All text, photographs, artwork, and other content may not be reproduced or transmitted in any form without the written consent of the author.
http://www.asliceofhomeschoolpie.com