Remember to "Pin" this post so you can share it with others.

Someday I would love for my children to be proficient at playing the piano as it is one of my favorite instruments. This is why I was very excited to review
Adventus
and their
MusIQ Homeschool
™ program.
MusIQ Homeschool™ is a seven-year piano curriculum which includes 20+ levels for beginners to advanced intermediate piano students.
Children's Music Journey
consists of three levels for ages 4-10; and
Piano Suite
consists of four levels for ages 10+.
Through the use of this program, created by music educators, children can learn to play the piano in the comfort of their own home. All you need for this program is a MIDI keyboard, Internet connection, and the downloadable software. The only other item I had to purchase was a
USB to MIDI Keyboard Interface Converter Cable Adapter
to connect my keyboard to my laptop. If you do not have a
keyboard
, you may order one through Adventus.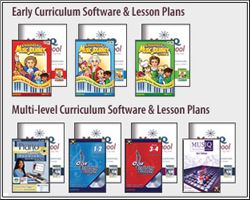 Customers can have access to all of the levels of the curriculum for a
monthly subscription
plan of $10.95. There is an additional cost for the
Lesson Plans
. They also offer for purchase various bundles for the Early Curriculum Program
here
and for the Multi-level Curriculum
here
. (I was given access to all of the levels of the curriculum and the Lesson Plans.)
For this review we used the
Children's Music Journey Vol. 1
which teaches theory. The program is taught by seven animated composers: Beethoven, Bach, Joplin, Mendelssohn, and Villa-Lobos. It includes:
25 weekly lessons
25 practice sessions with Miss Melody (an animated teacher)
50 learn-to-play pieces
10 games
The ability for the student to compose his own music
Music history
The lessons are to be completed once a week with student practices throughout the week.
How We Used This Program:
Listening to Beethoven
My son began the program in the lesson room. This is where he first met his famous composer instructor who shared some background information about himself and offered my son the opportunity to listen to some of the composer's most popular pieces of compositions. This was followed by the lesson. In Lesson 1, my son learned about high notes, low notes, and the middle C note. In later lessons he was taught concepts such as counting.
Listening to Miss Melody
Once he was finished with the lesson room, he visited Miss Melody in the practice room where he reviewed what he had just learned.
He practiced his new skills in the game room. This is one of the places he visited throughout the week. Certain games would only be accessible after completing certain lessons.
Practicing in the game room
His favorite room was the improvisation room. This is where he could use a variety of musical instruments to create his own music.
My Thoughts About the Program:
Having had piano lessons myself, I still value the one-on-one interaction you have with an instructor. I believe there is also value in being able to see the instructor's hands as they play the songs and the ability of being able to answer questions or provide advice when needed. However, I believe this program offers children a fun way to learn to play the piano. If a student needs more practice on a particular lesson, I appreciate that you can replay the lesson. Also, the monthly subscription fee is a great value considering how expensive piano lessons can run.
I'm sorry to say that this program did not work for my son. He didn't enjoy the animated characters. Their voices irritated him and he didn't appreciate the way they looked. However, as I mentioned before, he did have fun putting his own music together.
To find out what others on the Crew had to say about this and other levels of the Adventus'
MusIQ Homeschool
™ program click on the banner below.


©2011-2013 A Slice of Homeschool Pie. All rights reserved. All text, photographs, artwork, and other content may not be reproduced or transmitted in any form without the written consent of the author.
http://www.asliceofhomeschoolpie.com