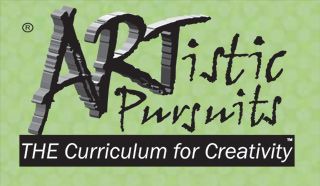 When I was a student in high school, art was my favorite subject. Thus, this was something I knew I wanted to include in our homeschool. When researching various art curriculums one art program that I kept coming back to was
ARTistic Pursuits
. This is a comprehensive art program geared toward students in Preschool through 12th grade.
What sets this program apart from others is that it is not your typical art instruction book.
ARTistic Pursuits encourages students to make choices about what they want to draw, paint, or sculpt versus following someone else's work.
My first-grader recently had the opportunity to use ARTistic Pursuits' 3rd Edition of their
Early Elementary K-3 (Book 1) - An Introduction to the Visual Arts
for children ages 5 and older. The cost of this book is $47.95.
All you have to do is gather the art materials your student will use. A materials list is included in the beginning of the book. (You can also view it on
ARTistic Pursuits'
website.) I appreciate how it is broken down into four different color coded groups. Each project is given a material group number so that you can easily see which materials will be used to complete the project. It also includes any extra items needed.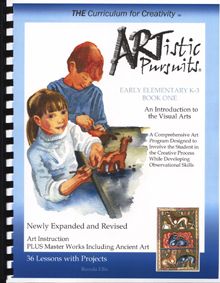 The non-consumable book has a comb-binding and includes 95 pages, 36 lessons (which has been expanded from the previous 32 lessons offered - 4 new lessons have been added to the
What Artist Do
area), and 185 illustrations. It combines art with history. Book 1 includes artwork from the Ancient time period through the 1300's. This was the perfect book for us because my son is currently covering the Ancient times in his history studies.
It is divided into the following three sections:
What Artists Do
- There are 14 lessons in this section where children explore drawing and painting. They also explore the activities artists engage in when creating art and learn how to use materials such as watercolor crayons, pastels, and pencil. Children get to study the various types of subjects artists work from. Through this section the child is introduced to ideas that are important in understanding visual arts and discovers what it is to be an artist.
What Artists See
- This includes 7 sections. Children explore collage, paper works, drawing and color mixing. They also learn about two-dimensional and three-dimensional work and what defines the basic elements of art.
Where We Find Art
- Included are 15 lessons in which the child learns about ancient art found in locations such as caves, pyramids, cathedrals, etc. They learn to use media such as chalk pastels, oil pastels, clay and paper works. They also explore a variety of art forms such as mural, pottery, etc.
Each lesson is broken into 3 mini lessons and each lesson takes 5 to 10 minutes to present.
First is the topic being learned
Second is the study of a particular art piece
Third is the project
Short lessons for this age group are very important to me as a teacher. The lessons were interesting enough to keep my son's attention, and short enough to keep my son engaged. The projects themselves can take between 30 to 60 minutes depending on the child's attention span. Most projects took my son no longer than 30 minutes.
The drawing of a walkie talkie - You Compose Project
My son's favorite subject tends to be his brother. Here he's drawing a picture of himself with his brother - You Imagine Project
My son drew a crayfish from a photo - You Use Photos Project
ARTistic Pursuits offers an Art Supply Pack allowing you to conveniently order all your materials at one time.
What I Enjoy About This Program:
The short lessons
The ease of the projects
The only preparation needed is to have the supplies on hand
The assortment of mediums used
The variety of projects
The flexibility of allowing children to use their own creativity
I am looking forward to completing more projects with my son. I must admit, he does not share my enthusiasm for art like he once did. My hope is that due to the variety of projects found in this book, he will find one in particular that will once again spark his interest in art.
To read more reviews from the Crew about ARTistic Pursuits' art program for other grade levels click on the banner below:

Disclaimer: I received a free copy of this product through the Schoolhouse Review Crew in exchange for my honest review. I was not required to write a positive review nor was I compensated in any other way. All opinions I have expressed are my own or those of my family. I am disclosing this in accordance with the FTC Regulations.
©2011-2013 A Slice of Homeschool Pie. All rights reserved. All text, photographs, artwork, and other content may not be reproduced or transmitted in any form without the written consent of the author.
http://www.asliceofhomeschoolpie.com