Remember to "Pin" this post so you can share it with others.
My son really enjoyed reading
Science Naturally's
book,
One Minute Mysteries: 65 More Short Mysteries You Solve With Science
. This book is full of fun, brief brain teasers which covers four different science subjects including:
Life Science
Earth and Space Science
Physical and Chemical Science
General Science
It also includes an extra 5 More Minutes of Science Mystery and some samples from their other book,
65 Short Mysteries You Solve With Math
.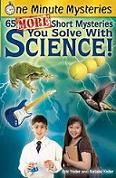 This is the third book in the
One Minute Mysteries
series.
Each story is only one page long and the solution is found on the next page. After reading each story, my son tried to figure out the answer to each mystery. This was fun for the both of us because I also tried to come up with a solution. This gave us an opportunity to discuss our thoughts together before viewing the answer. He loved it when he was able to solve a mystery that I couldn't. Of course, one story was never enough; we always had to go on to the next one, and the one after that.
After reading one of the stories titled,
Shoo Fly, Don't Bother Me
, my son learned why it's so important to wash fruit before eating it. In this story, the main character found bugs on his apple after its being in a bag in his backpack for two days. He thought they must have appeared out of thin air. Did they? That's the mystery that had to be solved.
One of the things I found most interesting about this book was that the authors were made up of a father/daughter team, Eric and Natalie Yoder. Natalie was only in middle school when she wrote the first book with her dad, was in high school for the second, and is now a sophomore in college.
This 180-page book is for children ages 8 to 12. Cost: $9.95. They are offering my readers the opportunity to purchase any three books at their website for only $19.95 with a shipping rate of just $2.95. The retail price for three books with shipping is $35.80 (a $12.90 savings). Just enter coupon code
3SPEC
in the shopping cart at
Science Naturally
.
This is one of those books that is really fun to have around because it's easy to read, it teaches science in a fun way, and is very enjoyable.
To read what other crew members have to say about this book, click on the banner below.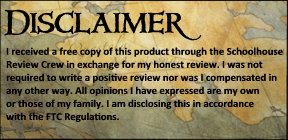 ©2011-2013 A Slice of Homeschool Pie. All rights reserved. All text, photographs, artwork, and other content may not be reproduced or transmitted in any form without the written consent of the author.
http://www.asliceofhomeschoolpie.com