Remember to "Pin" this post so you can share it with others.
Recently, I had my oldest son work on a new Bible study by
Doorposts
titled
Because You Are Strong: A Study of Godly Strength for Young Men
. What captured my attention the most about this study was that it was written to teach young men (10-12 and up) Bible study skills, and how to use their strength for God's glory through biblical heroes such as David, Samson, and the "mighty men of valor".
As I looked through the Introduction I read this:
"It is important, however, that we study what God actually says, not what we think God says. We need to pray for guidance from the Holy Spirit. In addition, we need to follow sound study practices and use proven resources as we study. Scripture must be interpreted by Scripture, not by other men or the ideas we might read into it."
I agree with the above statement and feel it is a very important concept for my son to understand. That statement helped give me an understanding as to the intention of the study.
This Bible study is broken up into 10 lessons and teaches a different study method divided into daily assignments. Some examples of these methods include:
The study of original Hebrew or Greek words as they're used throughout Scripture
The comparison of one scripture passage with another
Observing repeated words and themes in a passage
Outlining the content of a passage
Gathering all that scripture says on a particular topic
Studying the lives of people in the Bible, noting how their attitudes and actions portray biblical truths
These assignments take between 5 - 20 minutes to complete. It contains a total of 74 days of study, plus 40 more suggested studies. Scripture quotations are from the KJV and ESV translations of the Bible.
The book is written in a workbook format providing your child with lines in which to write their responses. It also includes various tips or further information alongside the margins. Each study ends with an "Application" section providing your child with questions that will offer him the opportunity to think about what he has learned and how he can apply it to his own life.
To view the book's Table of Contents, Introduction, and the first study titled,
Strength for the Race: Meditating on Hebrews 11-12
, click
here
.
Although regularly priced at $14.00, Doorposts is currently offering it at a sale price of $12.00. (It has 104 pages.) They also offer an e-book version for $10.00.
They do recommend two additional materials,
Nave's Topical Bible
and
Strong's Exhaustive Concordance
. I ordered these for a reasonable price through Doorposts, although each study does provide optional instructions for using digital Bible study tools. (I personally prefer to use printed books.)
My Thoughts
:
Although my son is twelve-years-old, I felt that this study was one he could not do by himself. It was a bit intense for a child his age so we worked on it together. However, I believe this would be a great study for a high-school aged student to do on his own.
When my son first looked through the book all he saw were the lines within the pages which to him meant "lots of writing." He is not an avid writer and I quickly found out that if I required him to continue to write out all of his responses, he would take a dislike to this study. I didn't want him to miss out on learning the important Bible study skills that I believe this study provides, so instead of writing his responses, I told him he could dictate them into a recorder and I would transcribe them. This worked great for him. It freed him up to focus more on the study and less on those lines. (Children who enjoy writing will probably love those lines.)
I have to admit that prior to this book, I personally had never done a study that teaches Bible study skills. I'm thankful to have been able to use this study to teach my son these skills at such a young age.
Some crew members had the opportunity to review another Doorposts study:
Beauty in the Heart - A Study of Godly Beauty for Young Women
. You can read what crew members had to say about both of these studies by clicking on the link below.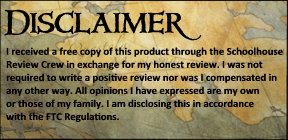 ©2011-2013 A Slice of Homeschool Pie. All rights reserved. All text, photographs, artwork, and other content may not be reproduced or transmitted in any form without the written consent of the author.
http://www.asliceofhomeschoolpie.com